Team Member Spotlight: Aviya Kohn, Kitchen & Nutritional Care Manager
In the heart of Moncton, New Brunswick, Omni is dedicated to providing exceptional care and services to its residents. One important aspect of this commitment is ensuring that residents not only receive the care they need but also enjoy delicious and nutritious meals. We recently sat down with Omni's Kitchen Manager and Nutritional Care Manager, Aviya Kohn, to gain insight into her role and the remarkable transformations she's brought to the dining experience.
From revamping menus to overseeing multiple kitchens, this interview sheds light on how Aviya has turned the dining experience into something residents eagerly anticipate each day.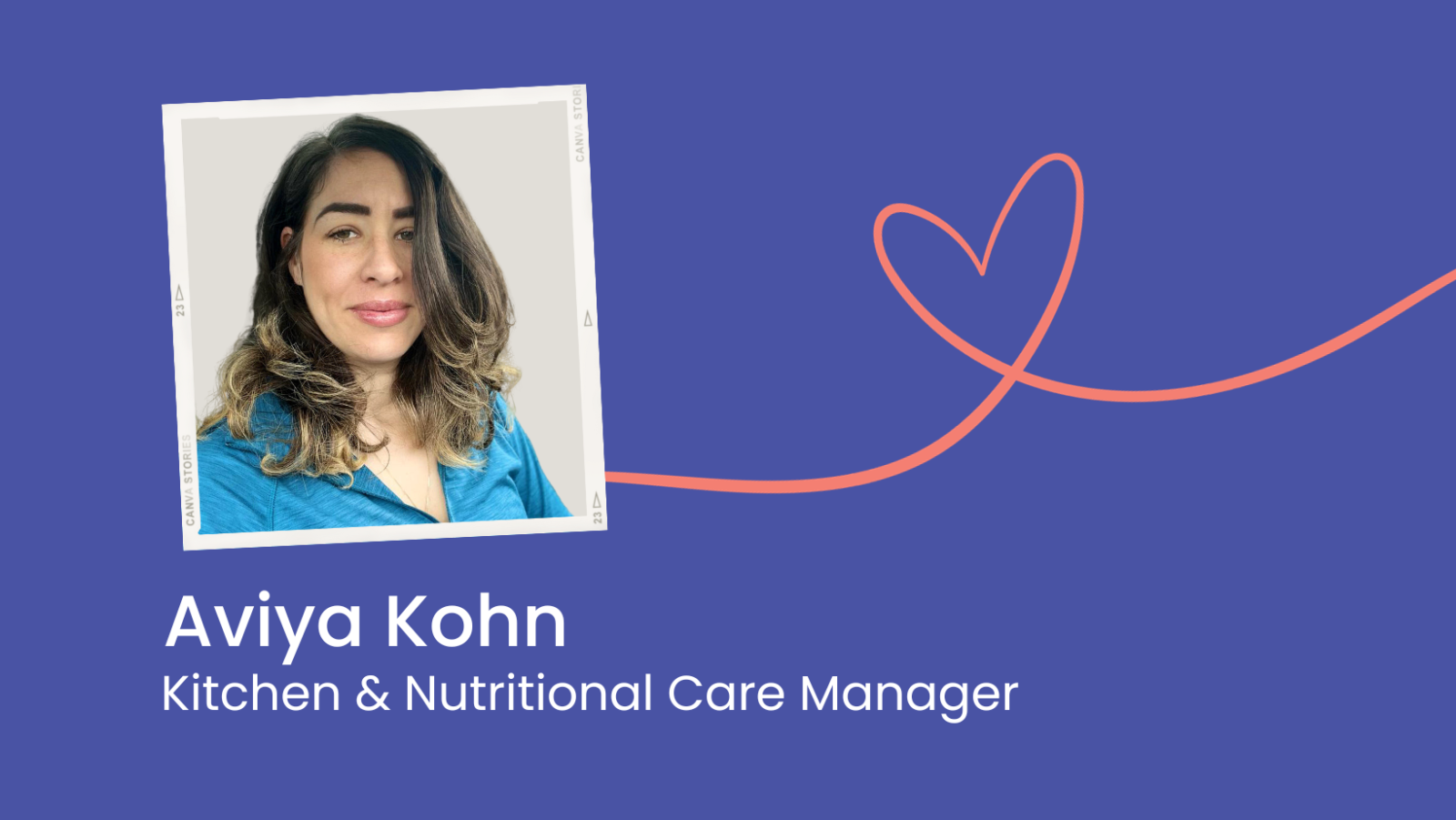 Q: What does your role look like day-to-day?
A: I began working at Omni last December as the Kitchen Manager and Nutritional Care Manager at our Moncton location, where we serve over 200 residents with varying levels of care needs. My daily responsibilities involve ensuring the satisfaction of our residents by providing them with the right food, following the menu, and managing our budget. In June, I was promoted to oversee all of our kitchens in New Brunswick, which includes two more kitchens in Moncton and two in Dieppe. This expanded role encompasses managing the kitchen staff, ensuring menu consistency across all locations, and delivering delicious, nutritious meals. I also conduct staff meetings every three weeks, meet with residents every other week, and engage in daily conversations with family members in the dining room to maintain a high standard of quality and service.
Q: Tell me about your engagement with residents and the feedback and input they provide.
A: Engaging with our residents is a unique challenge because they all come from different backgrounds and have diverse preferences. We strive to create a menu that caters to as many residents as possible. Recently, we introduced an à la carte menu, which offers six daily choices on top of our regular menu, providing residents with eight options. This flexibility ensures that everyone can choose meals they truly enjoy, and the positive feedback we receive is a testament to our success in this regard.
Q: What has been your most significant accomplishment so far?
A: When I first joined, I had to build everything from the ground up, including recipes, menu planning, budgeting, and staff training. I even hired new staff and brought them up-to-speed. Establishing a cohesive system and seeing it run smoothly from the beginning has been a significant achievement.
Q: What inspires and motivates you in your role every day?
A: What motivates me most is the satisfaction and appreciation of the residents. When I hear them express their gratitude with smiles and kind words about the food, it truly makes my day. Positive feedback like "It was a great lunch" or "We love the food" is all I need to keep going.
Q: What kind of resources do you leverage at Omni?
A: At Omni, we have a strong sense of collaboration and effective communication. Whenever a problem or issue arises, we come together as a team to find solutions. This collaborative environment has been invaluable, and I appreciate the support and resources available to address any challenges that may arise.
Q: What would you say is the most unique part about working with Omni?
A: First and foremost, Omni is a huge company, but what makes it special is the sense of unity and teamwork among its employees. We all work together to achieve our goals, and that collective effort creates a unique and positive work environment.
Q: How have you grown professionally at Omni?
A: I initially started as the Nutritional Care Manager in Moncton, overseeing one kitchen. After six months, I was promoted to manage all of our kitchens in New Brunswick. This promotion allowed me to align all the kitchens, ensuring uniform processes, guidelines, and staff training across locations. It has been a significant professional growth opportunity.
Q: How do you manage overseeing several homes?
A: To effectively oversee multiple homes, I make an effort to be present as much as possible. I engage with residents in the dining room and their rooms, promptly address any concerns, and hold resident meetings every other month. I encourage residents and staff to communicate with me directly if they have any issues or feedback. This constant interaction helps ensure that everything runs smoothly and meets our high standards.
Q: How would you describe your experience at Omni to your friends and family?
A: My friends and family, even those outside of Canada, all want to work at Omni after hearing about my experience. I share with them the positive work atmosphere, the commitment to quality, and the sense of fulfillment that comes from making residents happy.
Q: What are some of your favourite meals or dishes, and how does your personal approach to food influence your work?
A: I believe that everyone appreciates homemade food, so we strive to make everything from scratch, even if it requires more time and training. This commitment to quality and freshness in our menus is essential for the health and satisfaction of our residents.
Learn more about how Omni supports its residents' diet and nutritional needs.